Shipbuilding: a promising industry of Bangladesh
Shipbuilding industry: domestic transportation of Bangladesh consists of roads, rails, and predominantly waterways as the country have 700 rivers and 19,467 sq km area in the Bay of Bengal. Around 22 major ports and 448 secondary waterway areas and about 0.7 million river vessels transport goods and passengers all year round.
An estimated 50 million passengers are moved through these waterways each year which encouraged local entrepreneurs to build marine vessels inside the country thus the shipbuilding industry emerged. Growing domestic demand combined with the prospect of exporting to other countries also motivated local companies to increase their capacity to produce large ocean-going vessels.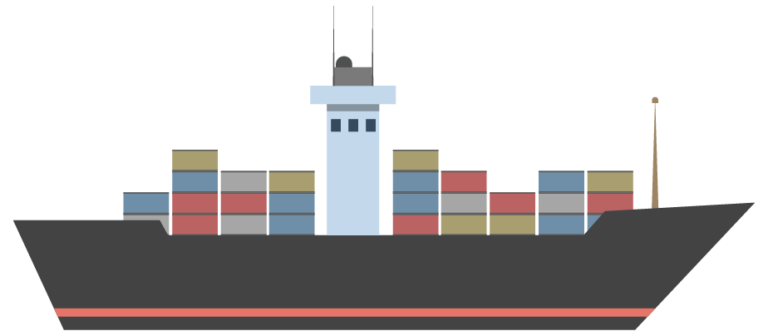 Shipbuilding is one of the growing industries which have created thousands of jobs and contributed to increasing the export earnings. Local shipbuilders are now able to build a diversified range of vessels which include multipurpose vessel, fast patrol boat, container vessel, tanker, dredging barge, ferry, passenger vessel, landing craft, tourist ship, tugboat, supply barge, deck loading barge, pleasure craft, crane boat, speed boat, deep-sea trawler, self-propelled barge, inspection vessel, cargo coaster, troops carrying vessel, double-decker passenger vessel, hydrographic survey boat, pilot boat, hospital ship, and water taxi.
Bangladesh made marine vessels are already exported to several countries in the EU, North America, Africa, Middle-east and Asia. According to industry insiders, Bangladesh has a great potential to emerge as a strong competitor in the small to medium size ocean going segment as global industry leaders China, South Korea and Japan are primarily focused on larger container ships and tankers.
Shipbuilding industry is heavily dependent – over 80% for export or ocean-bound vessels and 50-60 percent for inland waters – on imported materials and components such as generator, transformer, different parts of the engine, furniture etc. Steel pipe, plate, angle, paint, cable are usually sourced from the local market.
Work process of local shipbuilding companies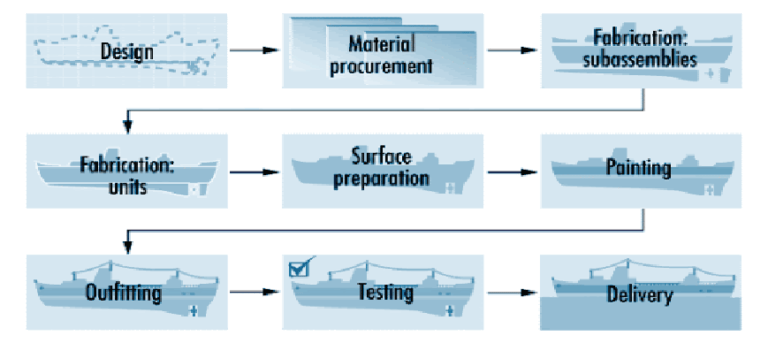 Who are the major players of the Shipbuilding industry?
According to Ship Builders Association (BSA), around 100 shipbuilding companies with 120 registered shipyards of different size are operating in Bangladesh. Despite having hundreds of shipbuilding companies, only a few have the experience to produce export quality vessels
Among them, Western Marine Shipyard is a prominent shipbuilder which employs 3,500 skilled and semi-skilled people. The company has already built more than 150 ships – container ships, tankers, deep-see fishing trawlers, bulk carriers, port utility vessels and passenger ships – and currently building around 50 ships at its 45 acres dockyard located in Chittagong port area.
High-Speed Shipbuilding & Engineering, one of the oldest names in the industry, has so far produced several watercraft with various specifications, sizes, and types. The company can build up to 1,200 deadweight tonnage (DWT) of ships and has already exported its vessels to Japan, USA and UK.
Major shipbuilding company of Bangladesh
Location of shipyard/ dock
Ananda Shipyards & Slipways Ltd.
Western Marine Shipyard Ltd
Kolagaon, Patiya, Chattogram
Narayanganj Engineering & Shipbuilding Ltd.
Nabigonj, Bandar, Narayanganj
Karnafuly Shipyard (PVT) Ltd.
Khan Brothers Shipbuilding Ltd.
Hosendi Bazar, Gazaria, Munshiganj
High Speed Shipbuilding & Engineering Company Ltd.
Meghna Shipbuilders & Dockyard Ltd.
Bashundhara Steel & Engineering Ltd.
Katuail, Konda, Keraniganj
Dockyard and Engineering Works Ltd.
Source: Bangladesh Investment Development Authority (BIDA)
Bangladesh mainly exports small type of vessels which are below 12,000 DWT. During 2014-15, Bangladesh exported only US$ 19.89 million worth of ships, boats and floating structures. In the following year, export earnings increased by 39.48% to US$ 19.89 million however, during the 2016-2017 fiscal year, total export earnings reported being a record high in recent years.
Although a significant reduction in earnings occurred during the last financial year (ending July to June) due to inability to deliver vessels as it takes a few years to build a ship, fetching only US$ 4.73 million. The following figure shows year wise export of ships, boats and floating structures.
Year wise export of ships, boats and floating structures (value in million USD)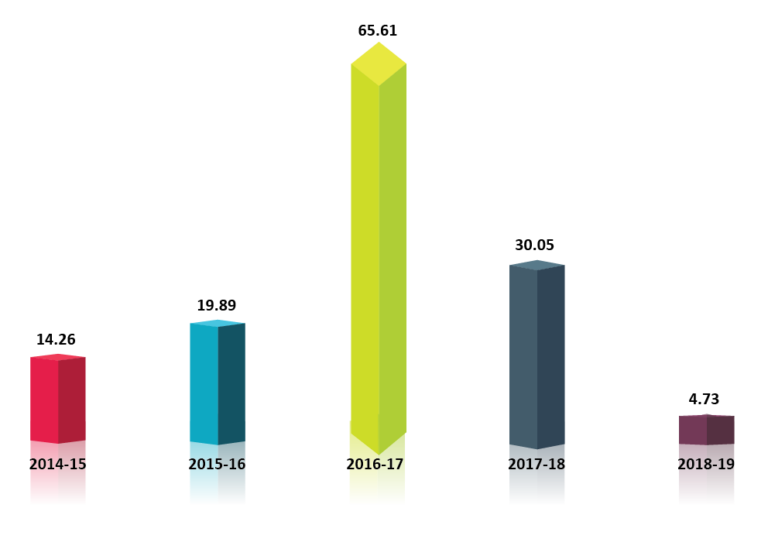 Source: Export Promotion Bureau of Bangladesh
During 2017-18 financial year, Bangladesh exported most of the ships, boats and floating structures to Kenya as 57.67% (US$ 17.32million) of the total revenue there.
India was the second largest importer responsible for one-third of the total exports. However, in the last fiscal year, Germany recorded to be the biggest destination contributing US$ 4.4 million or an impressive 93.15% of the total ship exports. Figure: 02 shows the country wise export of ships, boats and floating structures.
Country wise export of ships, boats and floating structures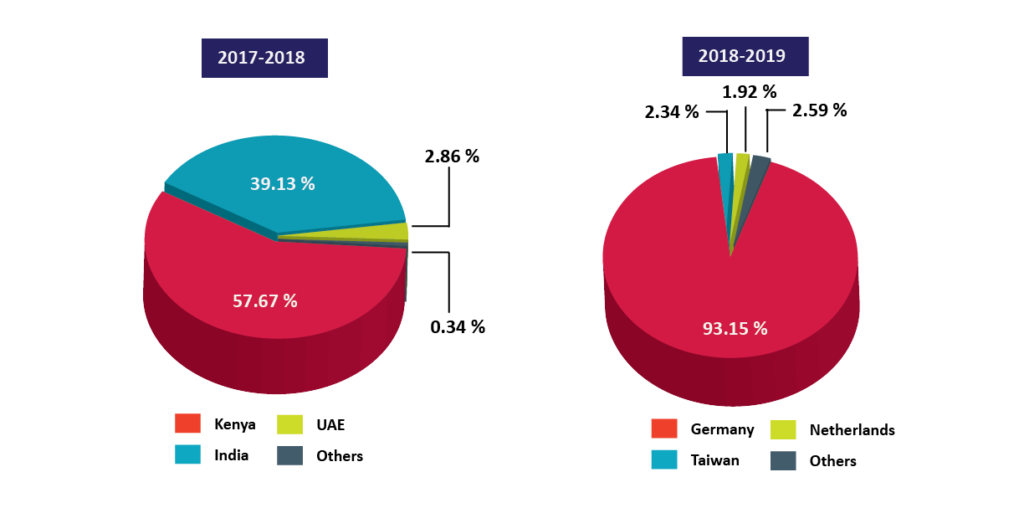 Source: Export Promotion Bureau of Bangladesh
Source: Export Promotion Bureau of Bangladesh
Source: Export Promotion Bureau of Bangladesh
Opportunity of the Industry
The global shipbuilding industry is led by China, Korea, and Japan but currently, those countries are not making smaller vessels. That allows Bangladeshi shipbuilders to take advantage of the increasing demand for smaller ships in the international market.
The market size of the small ocean-faring vessels is estimated to be around US$ 400 billion and industry experts believe that Bangladeshi shipbuilders have the capacity to capture at least 1% of the total market bringing additional US$ 4 billion remittances per year.
Labour cost in Bangladesh remains comparatively lower other competing countries. An estimated 20-30 percent low labour cost offers competitive advantages as this industry is understood to be labour-intensive.
Opportunity of the Industry
High cost of capital is the major challenge for the shipbuilding companies as most of them have to pay a double-digit interest rate for getting funds from the banks. As a result, local builders struggle to raise funds to completed large orders from international clients.
If this sector does not receive financial aid from the government – in the form of access to funds with low-interest rates and long-term payment options – it will be difficult for this industry to compete in the global competitive market despite having cheap labour.
As industry insiders predict considerable growth – around 15-20% per year – for this flourishing industry, it's the government who should step up with incentives and proper policy guidance so that this promising industry thrive in the long run.
Policymakers should also consider developing backward linkage industry which would be able to produce materials such as steel pipes, sanitary equipment, furniture, doors, windows, power generators, switchboards and transformers locally. This initiative will reduce dependence on imported materials while creating more employment opportunity.
Sector-specific Investment Incentive and Restriction
Reduced tax rate on export income:5% for publicly-listed company and 10% for non-listed company (SRO-132-AIN/ 2013)
5% import duties on raw materials used for building ship in local market
10% export subsidy on export of ships (FE Circular-31, August 2017)
No specific restriction exists upon the entry of foreign investors
No specific restriction exists upon the entry of foreign investors